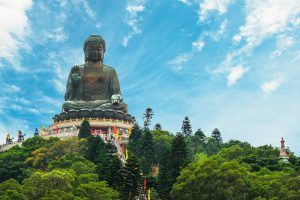 These Buddhist retreat centers in the United States offer the perfect getaway for those who seek to find an ideal balance of body, mind, and spirit. Check out these blissful sanctuaries for your next personal retreat.
Full Circle Retreat: Midwest Viroqua, WI
If you are in search of a retreat that offers the opportunity for expansion of your creative and soulful life, this Center may be the spot for you. Full Circle Retreat seeks to provide a peaceful, quiet space in which guests can explore and practice ways to connect with their inner teacher. Workshops focus on meditative healing art forms that include various art classes, writing, meditating, and spiritually based opportunities. All of the offerings are designed with the intent of bringing together and balancing the wellness of mind, body, and spirit of each guest. This is done through daily activities that focus on yoga, meditation, and spiritual practices. To learn more about the Center and its offerings go to fullcircleretreat.com.
Mountain Light Sanctuary: Asheville, NC
Located in a secluded cove in the Pisgah National Forest, the Mountain Light Sanctuary is a mini-paradise tucked away in a beautiful, natural setting. Surrounded by a number of peaceful creeks, and circled by the highest mountains in the eastern United States, this peaceful sanctuary offers a relaxing respite for those who visit. The grounds include a stone circle, open field, well-tended flower beds, a gorgeous wooded area and an overall tranquil location for group and individual activities. There are miles of hiking trail that wind through the national forest and cool creeks for those who seek a more adventurous experience. The location welcomes all faiths and seeks to share in the journey of guests who come here seeking clarity and balance in their lives. To learn more about the Sanctuary, go to mountainlightsanctuary.com.
Spirit Fire Meditative Retreat Center, Leyden, MA
This Buddhist-based center serves as both an educational organization and a meditation and retreat center. Located on 95 private acres of serene and beautiful land in Western Massachusetts, this facility is available for group rentals for 15 or fewer people. All of the rooms are designed to look out over the lush lawns and forests of the ground and are sun-filled year round. Meals are made with organic ingredients that are freshly selected each day. The Center focuses on its own brand of meditation called Living Awareness which utilizes insight and peaceful techniques to teach practical methods for daily practice. To learn more about retreats at the Center go to spiritfireretreatcenter.com.