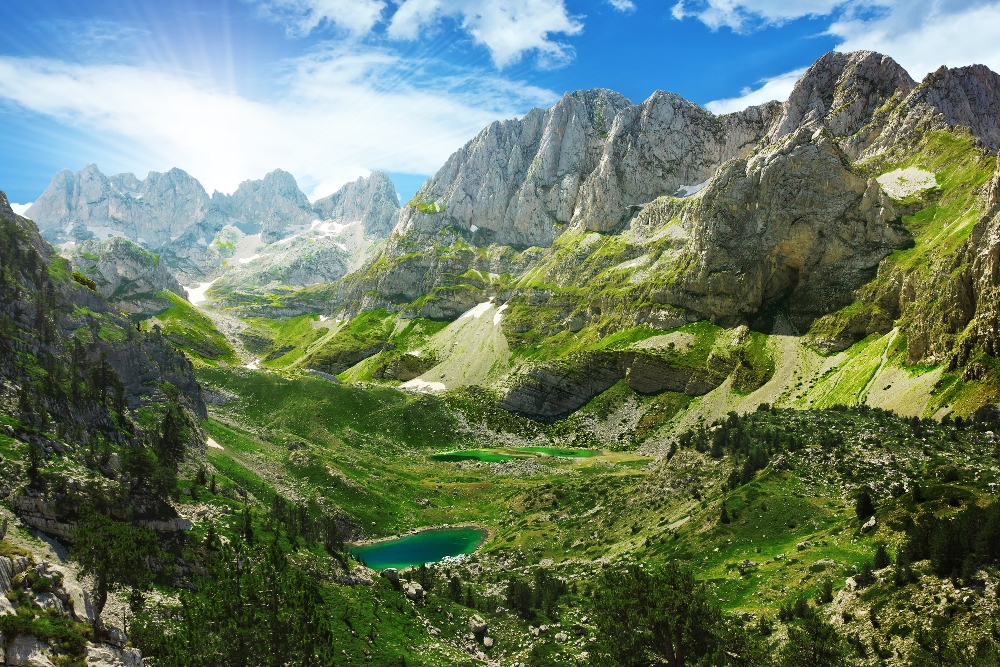 Hiking the Albanian Alps – The Valbona Trail to Thethi  – You won't find very many vacation brochures that tout the word 'accursed'; however, the beautiful Accursed Mountains offer a unique opportunity to explore the grace and culture of Albania.
The hiking trail that leads to Thethi (also known as simply Theth) from Valbona follows a trail that was used in days gone by for pack mules. This specific trail is just a slice of the nearly 400-mile trek known as Peaks of the Balkans. This trail runs from Valbone through Thethi, Kosovo, and into Montenegro. This route deserves its share of popularity among hikes of the world not only for its fantastic views, but also for the sheer accessibility of the trail. It is well-maintained, and even the out-of-shape hiker can perform well. In fact, most people complete the Valbona to Theth trail in just one day, many in just eight hours. And there are several places to stop and picnic, take pictures, and simply rest and enjoy the view.
While it isn't a one-way trail per se, the majority of hikers begin in Valbona. Getting to Valbona is not an easy trek if you're on a schedule; however, your efforts will be more than rewarded. Once you reach Shkoder, you'll enter the harbor of Lake Koman. Lake Koman is a man-made lake that was created for a hydroelectric plant in the 70s. Here, you'll hop aboard a ferry that will bring you to the town of Fierze. After the ferry you will catch a bus for Bajram Curri, from which you'll catch another bus that will take you into Valbona. Seems simple enough, sure – but there is only one bus each day that goes into Valbona, and they don't wait. If you are part of a scheduled tour, it will make things much less complicated.
Valbona is about 3000 feet above sea level, and it is actually quite developed and perhaps more touristy than most would expect at that altitude; however, it is a much more enjoyable experience than you might think. As you can see, getting there isn't even half the fun. There are eateries, clubs, and even internet and phone in this wildly remote locale.