Chicago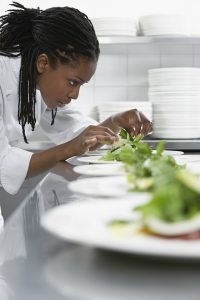 is a city that is known nationally for its diverse population and various ethnic eateries. Compiled below is a list of some of the best Black-owned dining options available to residents and visitors. Scattered throughout the Windy City, these bakeries and restaurants offer the best-of-the-best in bakeries and traditional sit-down dining establishments.
1. Brown Sugar Bakery.
Owner Stephanie Hart opened the Brown Sugar Bakery in 2004 and has steadily built herself a strong client base and cult-like following. Located in the Greater Grand Crossing area of Chicago her cakes and pastries are "dangerously delicious." Whether you seek a single cupcake, cobbler or pie, Ms. Hart's creations leave you wanting more. With more than 20 whole cake flavors to choose from, you are bound to find the perfect creation for any special occasion.
2. Batter & Berries.
The food at this Lincoln Park eatery is just out of this world. From the Chicken Infused Sweet Potato Waffles to their Cheesy Hash Browns the food is cooked to perfection and the service is outstanding. The wait staff is attentive to the needs of their customers and the Chef has been known to show up table side to check in with diners and to get their feedback about the dishes.
3. Banana Leaf.
If you are looking for some good food with Caribbean flair, this is the spot for you. The food is excellent and the service is too. The Jerk Chicken here is arguably some of the best you will find on Chicago's Southside. The entire menu is flavorful, fresh and filling. The prices are affordable and the staff makes every visit a pleasant one.
4. Café Trinidad.
This café is the first in the Chicagoland area to feature and specialize in foods from Trinidad and Tobago. The menu includes a selection of dishes that are found traditionally in the Caribbean and Jamaican cuisine. The food is flavorful, with just the right spices, the atmosphere is pleasing and the staff is a joy to interact with on-site. It is well worth a trip to explore the cuisine at this unique Southside restaurant.