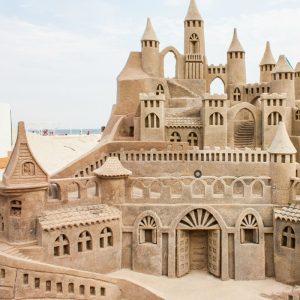 Over the last decade or two sand castle competitions have become highly competitive events in the United States. Whether you are an expert builder, an amateur looking to have some fun, or a spectator there to witness the artistic masterpieces, these are the best competitions to witness this unique art form.
1. Cannon Beach: Oregon
Recently named as one of "America's 100 best art towns," this beautiful coastal village on the Northern Coast of Oregon is an art lover's paradise. Filled with fantastic art galleries, amazing architecture, and surrounded by a plethora of natural beauty, it is the perfect location for an annual sandcastle competition. Head over to Sand Castle Beach for this annual event and experience some amazing temporary works of art. The plots are laid out the morning of the competition while master teams work together to create their individual plans of execution. One of the oldest and most popular sandcastle contests in the United States this weekend event attracts thousands of visitors and locals who come to take part in the competition.
2. SandSations Sandcastle Competition: Long Beach, Washington
This annual competition has one major rule: All teams must have fun! The event takes place each year on Washington's Long Beach Peninsula. It brings in serious competitors from around the country but also manages to maintain a fulfilled atmosphere. The Kiwanis Club provides free hot dogs for the event and there is a beach bonfire at the end of the day. Overall it is an outstanding opportunity for a family to have fun in the sun.
3. U.S. Open Sandcastle Competition: Imperial Beach, California.
This is the place to go if you want to catch top professional sand carvers and artists. Each year competitors flock to Imperial Beach, just outside of San Diego, to compete in the U.S. Open Sandcastle Competition. The festival has been known to take over the town with musical performances, artistic vendors, and a carnival-like atmosphere.
4. International Sand Sculpting Championship: Virginia Beach, Virginia
At the end of each summer, Virginia Beach bids the season adieu with a giant beachfront bash. The Neptune Festival is the annual blowout that includes surfing competitions, sand sculpting and food and crafts galore.