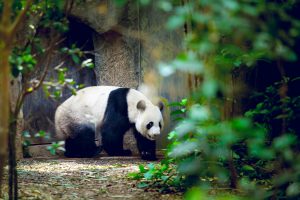 The National Zoological Park is part of the Smithsonian Institution and represents a large, complex diverse organization. Set amid Rock Creek Park, in the heart of Washington D.C. nearly 2,000 animals call the 163-acre National Zoo home.
The Zoo is one of Washington's most popular destinations for tourists as well as locals.
There are nearly two million visitors each year who come to take advantage of the free admission and to marvel at the exhibitions. Guests have the opportunity to learn about the wildlife and its conservation, walk through the beautiful and peaceful gardens and hear more about the research and conservation that is done regarding endangered species.
Often lauded for its pleasant surroundings and broad selection of species, the facility provides an engaging afternoon for younger visitors. To see all of the animals and exhibits at the Zoo can take several hours. Because of this it is suggested that you and your family obtain a map at the start of your adventure so that you can best map out the route and exhibits that are important to you. This is a great way to ensure that everyone has the opportunity to experience and enjoy all of their favorites while visiting. Among the popular exhibits available are the giant pandas, bears, lions, monkeys, apes, sea lions and more.
While visiting, bear in mind that there is a lot of walking involved.
As such, it is always important to not only wear the most comfortable shoes that you can, but to also dress for the weather you expect to encounter during your visit. Summertime in Washington D.C. can be quite humid (it did not get nicknamed "the Swamp" for no reason) and cooler weather can be a bit brisk as well. Also, bear in mind that weekends can find the Zoo a bit crowded, so if you have a young one in your party that does not do well in crowds, consider planning an early morning mid-week trip, as they and you will find it a more enjoyable experience for everyone.
Although the zoo is free, the adjacent parking lots are not. You can expect to pay $16 for the first three hours; if you stay past three hours, you'll be charged $22. The National Zoo welcomes visitors every day from 6am to 6pm with exhibits open from 10am to 6pm.