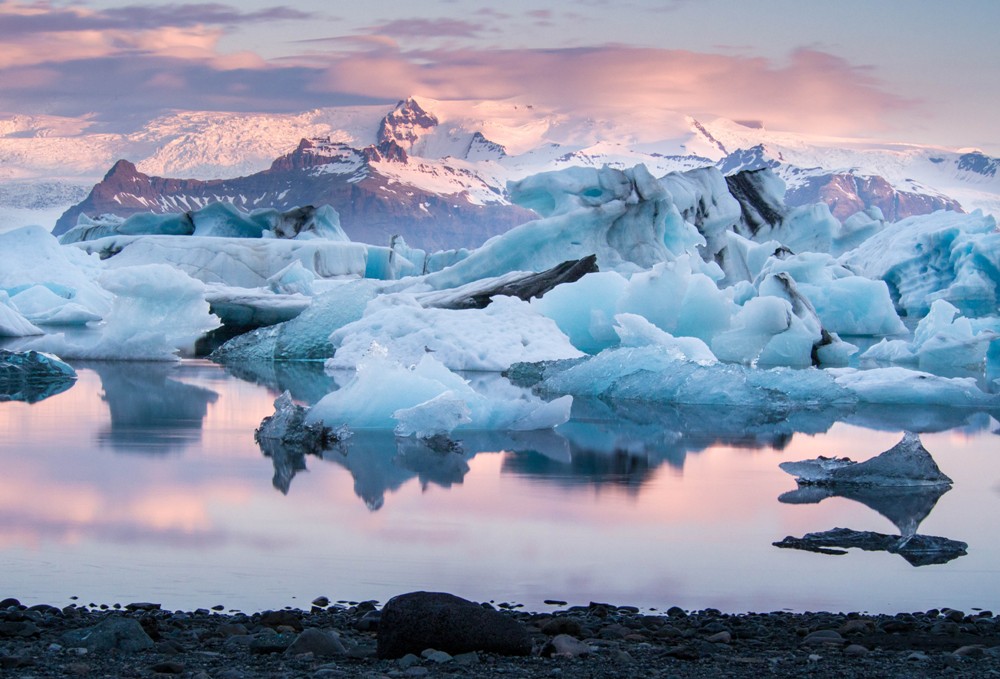 In Iceland's southeast region, there lies a glacial lagoon. Known as an ice lagoon, this is one of the most popular destinations in Iceland, thanks to its naturally tremendous beauty. Known as Jökulsárlón, this translates to Glacier's River Lagoon.
You'll witness seals swimming through the icy waters and near the coast. Sometimes you will see one lounging on a floating iceberg. However, these are not the only wildlife that enjoy the lagoon. All year round, but especially during Iceland's summer months, birds flock to Jökulsárlón, such as arctic terns.
Easily the crown jewel of Iceland, Jökulsárlón also has a black sand beach that many of the locals refer to as Diamond Beach – the chunks of ice strewn across the black sand resemble diamonds glittering in the bright sunshine.
Thousands of visitors flock here each year regardless of the season. In fact, this is the trendiest place in Iceland to film. Besides the diamond-esque chunks of ice strewn about and the black sandy beach, what else could make this such a unique location?
Jökulsárlón's Lagoon is situated against Vatnajökull, the largest glacier in all of Europe. And if that wasn't enough, the entire surrounding region is the biggest park in Iceland, their national park. It is the second largest in all of Europe, only shadowed by Russia's Yugid Va.
Iceland has three national parks, and each one is completely different that the others. Jökulsárlón is located within Vatnajökull National Park. This park is best known for the ice and glacier swirls, the rocky highlands, and the landscape designed by nature itself – lava flows.
The lagoon was formed as the glacier began to melt. The glacier continues to melt, enlarging the size of the lagoon yearly. It is quite the sight to behold as large ice blocks crumble and fall, splashing into the lagoon below.
This is one place in the world where you can literally visibly witness global warming in action. While the lagoon's size becomes more and more impressive, it is taking a toll on the glacial ice. It is also one place that, due to these shifting qualities, it will look different every time you visit.