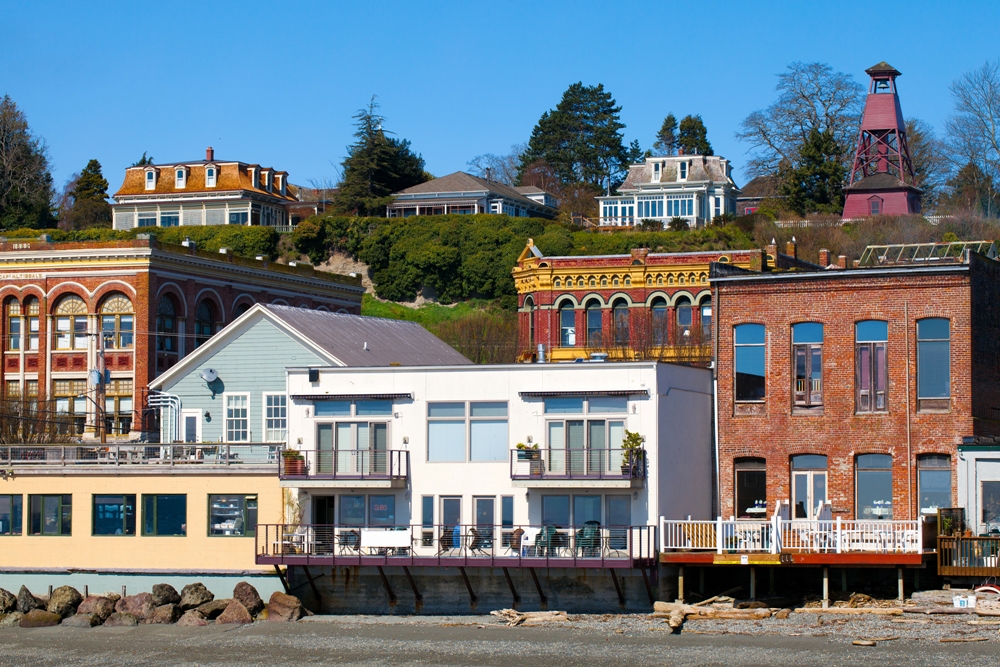 Housed inside the Tibbals Building, the Palace Hotel was not built for any king – but you wouldn't know that just by looking. Sea Captain Henry Tibbals wasn't royalty, but he was known during his seafaring years for some of the most magnificent exploits ever undertaken. His first sea adventure was at the tender age of ten. Over the years, his list of credits grew to include being the first captain to carry a load of railroad iron through the Isthmus of Panama and the first to test the United States' first diving bell, which assisted in his retrieval of nearly $70,000 worth of silver from a sunken Spanish ship. In Port Townshend, Tibbals was one of the most active residents, serving as the County Commissioner, the Sheriff, the Postmaster, a City Council member, as well as commissioning the building of Union Wharf.
In 1889 the retired captain began construction on the three-story building for $28,000 – a grand sum in those times. He used the ballasts from his retired ships to reinforce the building's foundation, and the building was crafted in the style known as Richardson Romanesque. The beautiful arched windows are an amazing feat of architectural design. By using twin columns to brace each one, they appear as though they extend through two full stories.
Like many buildings of its age, it has had varied uses throughout the years. The first uses of the Tibbals Building included The Townshend Tavern, a saloon that occupied the entire first floor. The upper floors were rooms available to rent, completely furnished. By the turn of the century, a newspaper used the Tibbals Building as their headquarters. Over time, the Tibbals Building has been home to the offices of Northern Pacific, an Egyptian playhouse, restaurants, a liquor store, grocery store, and a florist. Like many of the buildings of its day in Port Townshend, the upper levels were not used as much as the first floor and remain in the original splendor.
In 1976, a grand restoration project began to restore Captain Tibbals' building to its original state of glory. Restoration to the inside of the building was completed in 1977, and the exterior renovations by 1984. That spring, with state and federal grant monies, the important restoration to the foundation was completed, and a missing cornice finally made right.