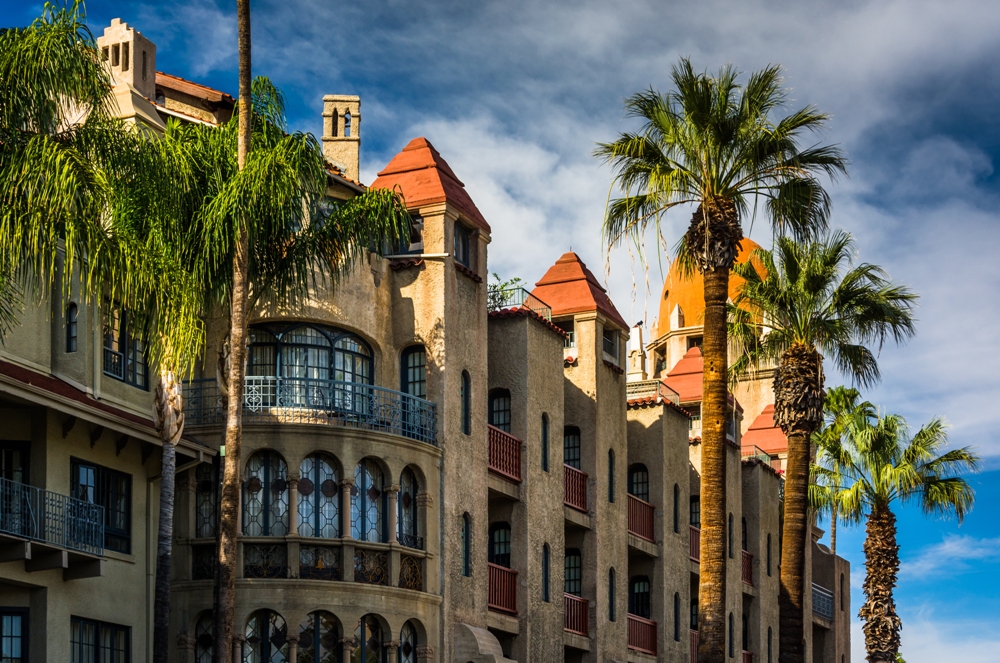 Through humble beginnings as a quaint boarding home in the late 1800s, The Mission Inn flourished as a full-service inn by the early 1900s. Due in part to southern California's warm weather and its boom in citrus sales, Newport Beach attracted affluent travelers and wealthy investors from as far away as Europe. The Mission Inn was opened by local Frank Miller, who just a few short years later found he needed to add on to the current establishment to keep up with demand.
In 1903, more than 200 additional guest rooms were added, as well as a new wing, the Mission Wing, which incorporated the architectural features of more than twenty missions all over the state of California. As demand continued to grow, he added three additional wings: The Cloister, Spanish, and Rotunda. The Rotunda Wing was finished in 1931. Frank Miller decorated his inn with various valuables from around the world, such as paintings, furniture, and relics of a religious nature; in fact, one of the most important relics in the world, the oldest mission bell in existence, is housed here and dates to 1247.
Several celebrities, such as Judy Garland and Tom Hanks, have stayed at The Mission, including presidents Roosevelt, Reagan, and Hoover. The Mission Inn has even been the backdrop for several of Hollywood's most major movies, like The Man in the Iron Mask from 1997. The walls of this nearly 150-year-old property could certainly tell some colorful stories.
Miller continued running his inn until he passed away in 1935. He was an expert in hospitality, and keenly made The Mission Inn a landmark of California history and a bucket-list destination for all.
The Mission Inn remained in Miller's family till the 1950s. It then changed hands several times and at one point was threatened with demolition. In the late 1980s, Duane Roberts and his wife Kelly arrived at the ready to save the day. They bought the property and promptly closed it to renovate and bring back the majestic awe of the inn so that it would never be threatened with demolition again. Seven years and over $50 million later, the inn reopened in 1992 to wide acclaim, and once again it was the 'it' place to vacation.