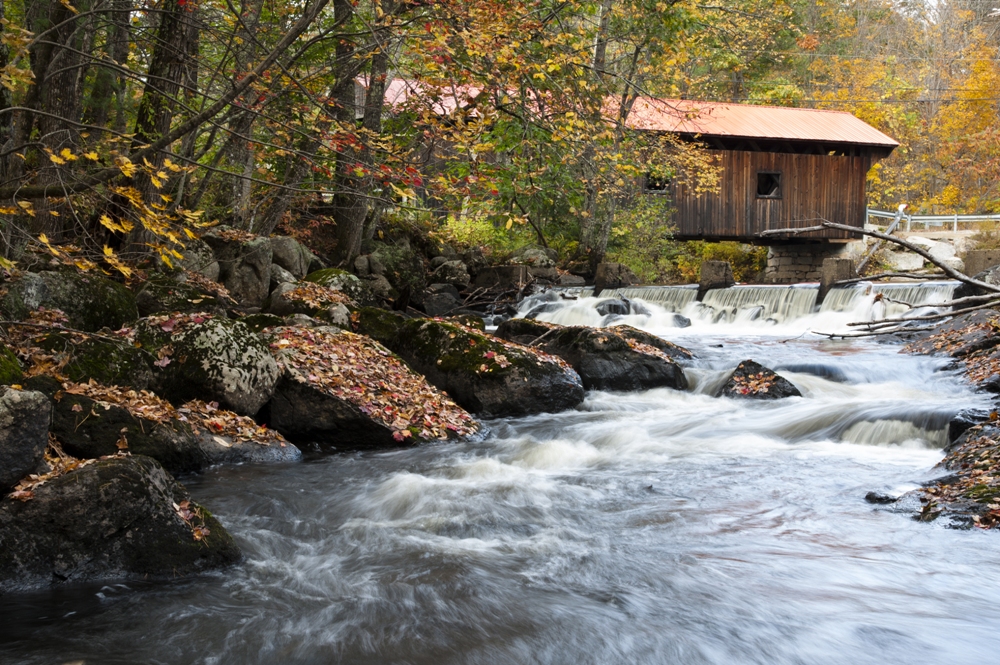 For some, the idea of romantic luxury means butlers and room service; however, sometimes the great outdoors and a bit of nostalgia is all you need.
At a point in the not-so-distant past, public displays of affection, or PDAs, were not considered fashionable, nor acceptable; but, the state of New Hampshire decided to help out its citizens who may have wanted to steal a kiss out in the open. The state and other private land owners began building covered bridges for people to snag a smooch while out for a walk or a drive. New Hampshire now has more than sixty covered bridges, each one unique to its builder and its setting, but all are over a body of water, whether a river, small lake, or simple stream. While they are simply covered bridges allowing accessibility over the water, the locals will tell you these are "kissing bridges," hearkening back to simpler times.
Built in 1866, the longest covered bridge in New Hampshire is located off Route 12A in Cornish, and is so long it'll take you into the neighboring state of Vermont. It comes in at an astonishing 450-feet-long, making it not only the longest covered bridge in New Hampshire, but also the longest bridge made out of wood in the United States, as well as the world's longest covered, two span bridge. If you enter the bridge on the New Hampshire side, you'll cross the Connecticut River into Vermont where the bridge is called the Windsor-Cornish; however, the bridge belongs to the state of New Hampshire, so perhaps a better suited name would be the Cornish-Windsor?
The most dramatic of New Hampshire's covered bridges is a pedestrian-only walkway in the midst of a two-mile-long walking trail that takes you over the expanse of Flume Gorge in Lincoln, New Hampshire. Due to its crafty setup, the Sentinel Pine Bridge looks as though it is mid-air suspended. It was built near the end of the 1930s and originally had no sides. Considered to be a potential safety hazard, the state added sides in 1984. While there is a small admission fee charged for entry into Flume Gorge, it is well worth the views from this true sentinel.