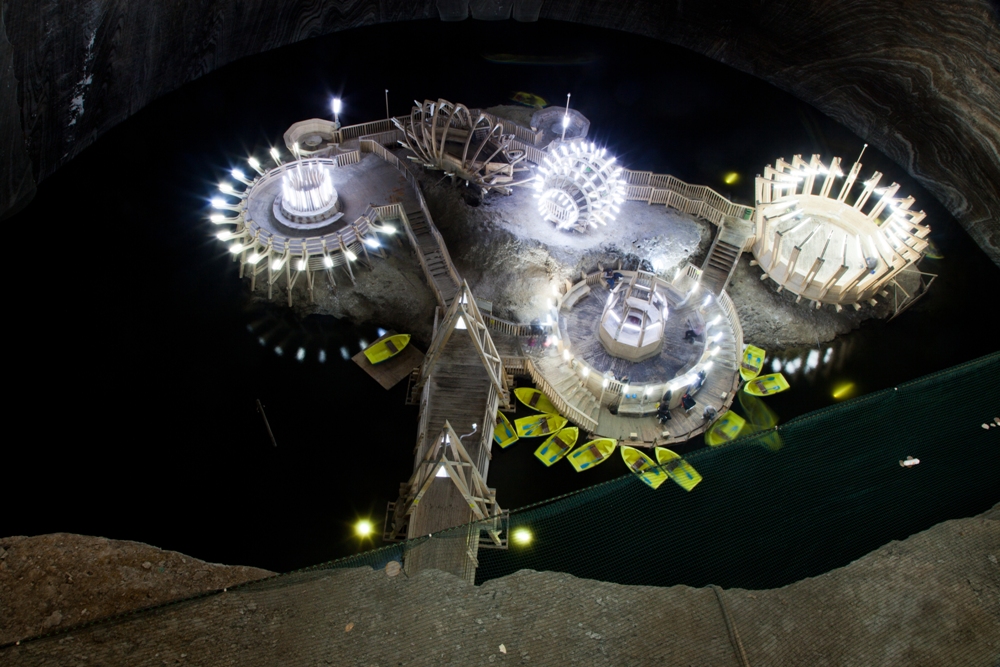 Turda, Romania is the home of one of the world's oldest salt mines. More than 2000 years of history lie within the depths of one of the world's most incredible natural attractions. Today, nestled inside of the salt mine is a different kind of attraction. Ready to take the plunge? About 400 feet or so?
Salina Turda dates back to the 1600s, when the mine was used for various purposes aside from the obvious salt mining, including a storage for cheese and even a bomb shelter during World War II. The extraction of salt began in antiquity, continuing in stops and starts, until excavations finally ceased in 1932. Today it is home to a one-of-a-kind theme park that has everything, including an amphitheater, a bowling alley, and even a Ferris wheel. There is even a lake inside Salina Turda, with both paddle boats and row boats for your aided exploration. If that isn't enough, how about some mini golf? Ping pong? It's all here.
While your fun-meter might be on overload due to all of the amazing attractions, it is difficult to dismiss the rugged natural beauty of this huge underground "museum"; a result of the salt mining that carved away more than 3 billion tons of the stuff. Business Insider magazine even ranked Salina Turda as the world's most attractive underground place.
This epic amusement park highlights innovation, and appears as though it could be used for the set of a new SciFi movie. In addition to the attractions already listed, you'll even find a spa within these depths, with treatment rooms that have natural aerosols to aid in your relaxation.
The Salina Turda is open all year long and there are various packages to choose from. Costs for adults (based on your package) range right around $4 US dollars for adults. If rankings are any indication, Salina Turda might actually be the most attractive place on or inside the planet.