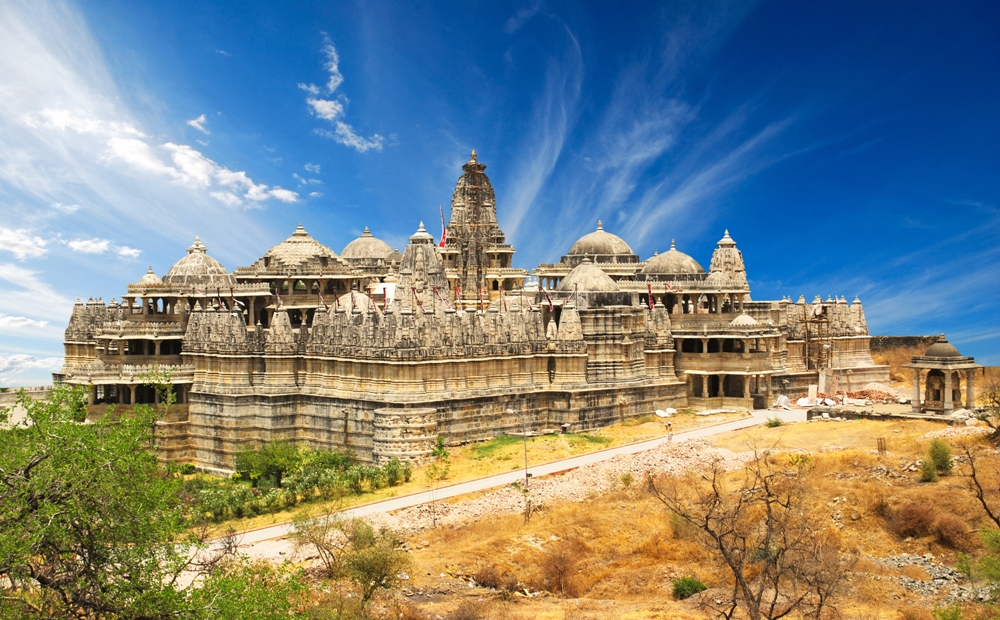 Deep in the Pali District, there are lush green valleys, and deep in the mist of surrounding mountain ranges is a village, Ranakpur. Of all of the temple complexes throughout India, Ranakpur Jain is one of the largest and perhaps most important of all. The temple complex covers an area of almost 50,000 square feet, with almost 30 different halls, 80 domes, and all is buttressed by exactly 1444 pillars of marble, no two of which are alike, all intricately designed and carved.
Dharma Shah was a prosperous businessman and, with the support of a gifted local monarch, Rana Kumbha, Shah built the Ranakpur Jain Temple. According to local legends, Shah had received a vision that left him burning with a desire to build a temple in honor of the Jain religion's founder, Adinath. Shah approached Kumbha with his ideas, and the king gave him both the lands upon which the temple would sit, as well as advice for building a town near to the temple's site. Construction was started immediately of both the temple and the town, and were named after the king who had been so supportive of Shah's visions.
History goes on to say that the temple cost ten million Rupees and took more than fifty years to build. Over the face of the whole temple, you'll find carvings of lace and other geometric type patterns. The domes themselves are in concentric circles with brackets that connect the dome bases to the tops, covered in figures of gods and other deities.
The artist sculpted the deities, scattered over the temple like raw jewels, festooned with delicate carvings. At one time it was thought that the many various pillars around the temple were too many to count, but the feat was taken on and it was discovered that there are exactly 1444 pillars – an important number in the Indian religion that inspired the temple. On approach, it is as if the many spires, patterns, and faces come alive, filling the beholder with awe, ecstasy, and sublime bliss.