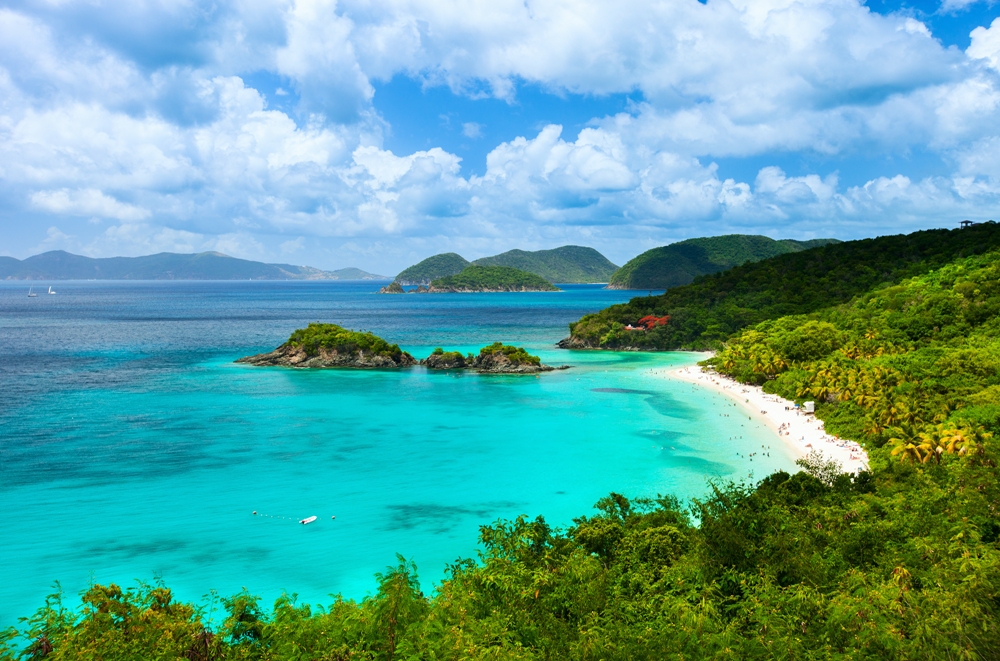 St. John is an island in the Caribbean Sea that, along with two others, forms the U.S. Virgin Islands, and it is the smallest one of its sister islands. St. John is known for it's amazing beauty including its white sand beaches which melt into the turquoise jeweled waters of the Caribbean. Over half of St. John island is part of an unspoiled national park.
St. John's offers a plethora of watersport activities: sailing charters, snorkeling, parasailing, diving, fishing, boat rentals, stand up paddling, and more. There are many trails for hiking, walking, in addition to ranger guided programs; the historic Annaberg offers a trail that is a walking tour of the Annaberg Sugar Mills Ruins, and that is just one of several interesting paths to explore. If you are looking to relax alongside the turquoise waters, you may decide to enjoy a picnic on one of the many beaches!
Hawksnest Beach has three reefs of Elkhorn coral to snorkel along. Trunk Bay Beach features an underwater snorkeling trail. Cinnamon Bay Beach is the location of the Cinnamon Bay Resort and Campground; the resort provides access to rentals, sailing, paddling, kayaking, windsurfing, and snorkeling. Maho Bay Beach has areas that are ideal for viewing turtles, and walking along the beach. Francis Bay Beach offers snorkeling, swimming, and turtles.
The Virgin Islands National Park offers history, conservation, boating, hiking, guided programs, and more! The Virgin Islands National Park offers shipwrecks, museum collection, archaeological sites, as well as numerous historical structures. The park offers a glimpse into the pristine habitats, and provides an invaluable illustration of the necessity of untouched environments throughout the world. The park protects endangered and threatened habitats, birds, fish, whales, dolphins, reptiles, coral, sponge, and over 200 invertebrate species! The Ranger-guided Tours include hikes, bird walks, snorkel tours, and shore walks; Ranger-guided Hikes take you on the L'Esperance Hike (available November thru April); the Reef Bay Trail (available year round); the Discover Bird Watching Hike (available every Friday); and Park Rangers provide seasonal options for guided programs like yoga, snorkeling, and sky watching. Virgin Islands National Park plays a vital conservation role with sea turtle nest monitoring, fish counts, coral disease, marine habitat studies, and through education. The park offers an opportunity to embrace the sun, the sea, and the sand in a picture perfect setting.