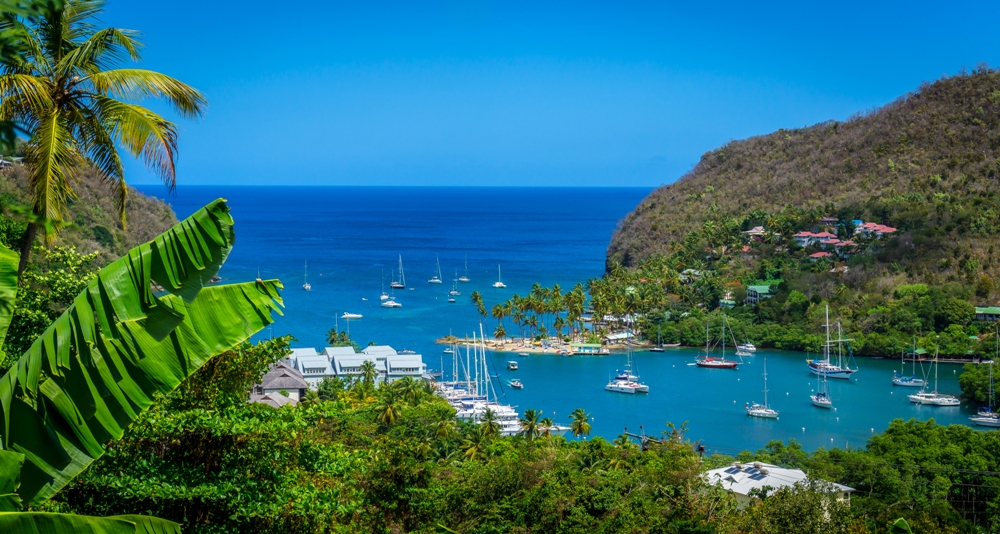 Saint Lucia is an island country in the Caribbean Sea. It is a popular cruise stop. It is roughly 238 square miles, the official language is English, and its tropical climate makes it a perfect tourist destination. The popular destination provides many activities like canopy zip-lining, aerial trams, bird watching, a dazzling hiking trail, mountain biking, horseback riding, diving, yachting, ATV rides, and for those seeking relaxation, there are a variety of spas and retreats!
While on Saint Lucia, plan a visit to the Sulphur Springs (in Soufrière). Sulphur Springs is the only drive-in volcano, and it can only be found in Saint Lucia. The springs are made up of several hot springs, steam vents (fumaroles), and bubbling mud pools. You can bathe in the relaxing, sulfuric pools, after walking through the crater, when you are ready you can rinse off in the waterfall!
Saint Lucia is also home to Diamond Falls Botanical Gardens & Mineral Baths. Visiting the Diamond Falls Botanical Gardens & Mineral Baths feeds your spirit with its minerals baths and spa, with its variegated waterfall, with its gardens, and with its nature trail. The Diamond Waterfall is fed by various minerals and elements which impact, and enhance, the dazzling display. Enjoy the therapeutic mineral baths. Stroll through the gardens. Wend through the nature trails, move from the garden to the rainforest listening to the birdsong, smell the Red Cedar trees, imagine how little has changed, and how much!
St. Lucia's majestic twin peaks, known as "The Pitons" (Gros Piton and Petit Piton), are a designated World Heritage Site. They are located at either end of the island. The Gros Piton is a favorite hiking path, and the Petit Piton is a favorite among more experienced hikers and mountain climbers.
Pigeon Island National Park is touted as a "living museum", and as a monument of the intersections of international, civil, military, and marine threads. It is a 44 acre reserve, and is joined to the mainland by a causeway. The park offers old military ruins, stunning beaches, mouthwatering food, and a lookout point which provides a pristine view of the coastline. There are coves to swim in, a pirate's cave to explore, and hiking to reach the best vistas.
Saint Lucia has something enticing for everyone! Embark on a quest! Plan an expedition! Organize an adventure!