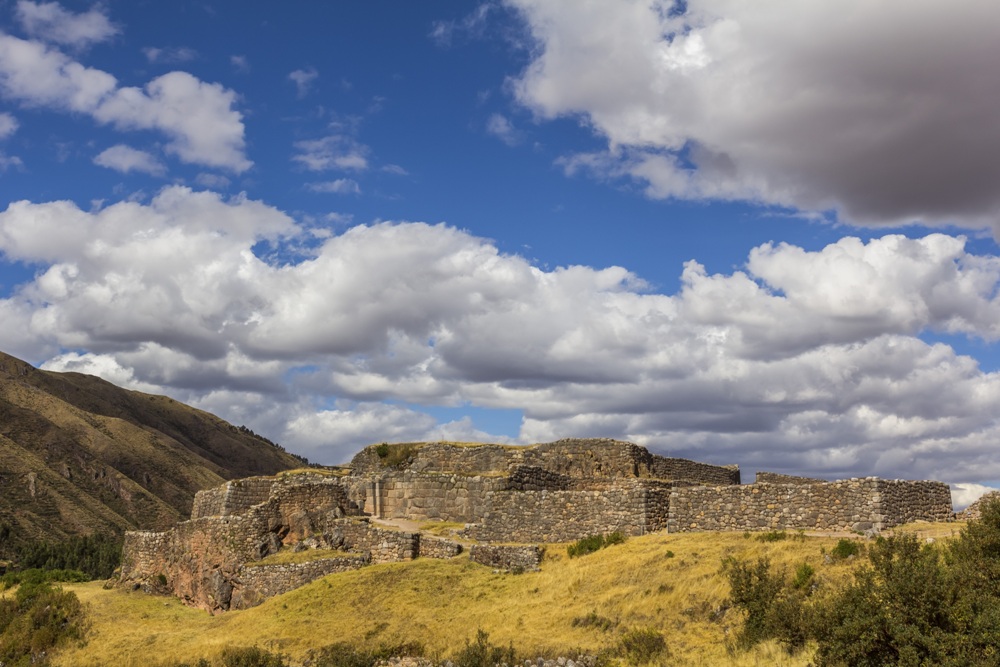 A short four-mile excursion outside of Cusco will bring you to the amazing ruins of Puca Pucara. Just up the mound from Sacsayhuaman outside of Q'enqo are what remains of an ancient settlement consisting of fortressed walls, several terraces, and fantastic Incan staircases. From atop this archaeological find, you can see the Cusco Valley, as well as glaciers to the south.
The park is comprised of about 3000 hectares of land in which the flora and wildlife of the Andes Mountains are prevalent. Kestrels and llamas call this archaeological park home, as well as several monuments. While there is still not much knowledge regarding Puca Pucara, it is believed that the ninth Incan ruler, Pachacuti, was responsible for its creation.
The name Puca Pucara is derived from the Quechua language, meaning "red fortress." The stones of the site take on a red hue around dusk which only serves to enhance the already mesmeric views of the valley that surrounds.
Just as its creation is still a mystery, so is its true function. What did they do here, and why? Because of its situation on top of a mount along a highly travelled road that overlooks the Cusco Valley, it is believed by many that, at least somewhat, this could very well have been a military installation. Another theory, however, due to its luxurious bath houses, plazas, and fountains, is that it could have been the equivalent of a spa for nobility, or their final resting place.
Within the site, you'll also find aqueducts and an ancient road. The road was constructed of stones of varying sizes. The surfaces of the stones are quite uneven, especially when compared to other similar sites.
The buildings, however, illustrate fine craftsmanship, and underneath the site, visitors are encouraged to explore the many chambers. Much like the ancient road, the walls that surround the site were also built of very irregular stones, all of which are stacked precariously. Some theories suggest that this is a site that was probably built in a hurry, which could lend credence to the idea that this could have been a military complex which was needed hastily.