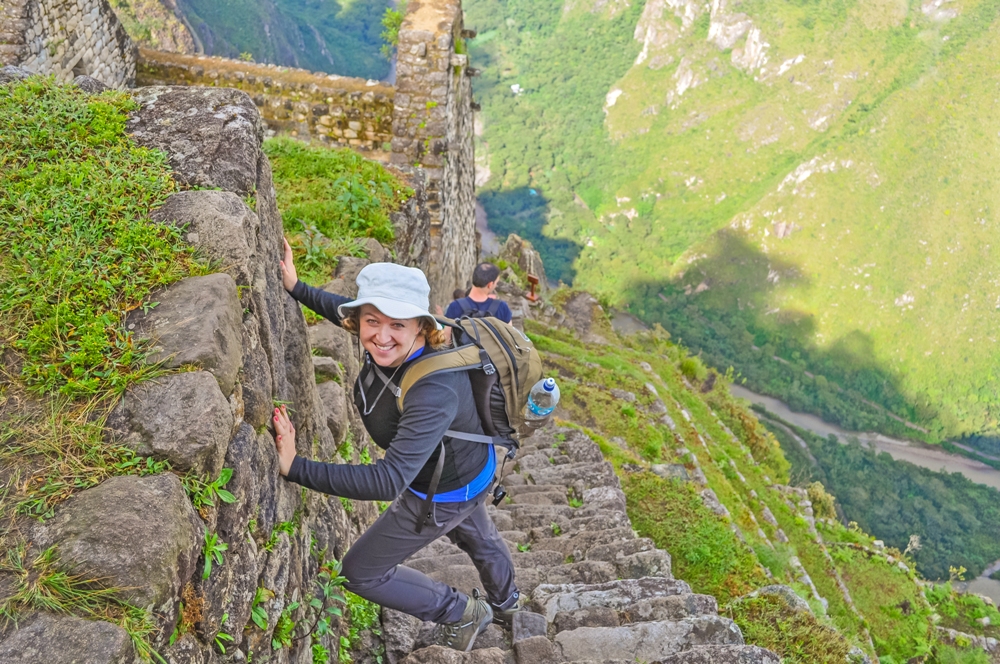 In the Quechuan language, Huayna Picchu means Young Peak. This mountain is the immense one sitting immediately behind its famous neighbor, Machu Picchu.
For many hikers, trekking up Huayna Picchu is just one of the highpoints of a vacation to Machu Picchu. The extraordinary sight of the Citadel and the region surrounding are simply fascinating from the peak, and most all state it is well worth the effort expended to make it to the top.
At a distance, Huayna seems as though it is meant only for technically-inclined climbers; however, this mountain is actually just a very steep trek. Some of the portions of the climb will require using both of your hands in conjunction with your feet, but technical climbing skills and tools are not required. In fact, some of the sections even provide railings for your assistance. If you do not possess an aversion to heights, the climb is enjoyable. It is suggested that you not make the climb if you are vulnerable to vertigo. Some areas have very steep drop-offs and there are no fences. It is suggested that you keep distance between yourself and other climbers, especially during the rainy season. Children 13 and older are allowed to climb Huayna.
The total climb to the summit is approximately a thousand feet. Because Huayna is in such proximity to the Citadel, the birds-eye view is incredible – a perspective not easily appreciated from within the city complex itself.
From the summit of Huayna, the full scope and grandeur of Machu Picchu is completely visible. The great magnitude and awesome complexity of this Incan ruin is more than humbling. Crowning the summit of Machu are terraces and remnants of temples that will have you questioning just how this ancient people were able to build these amazing sites.
There are two times at which tours begin the trek to the summit of Huayna, and there are reasons for and against both times – 7 am and 10 am. While the early morning departure makes for cooler temperatures (temperatures can begin to soar in the dry season by late morning), major fog banks can be encountered when departing in the early morning, obscuring much of the view.