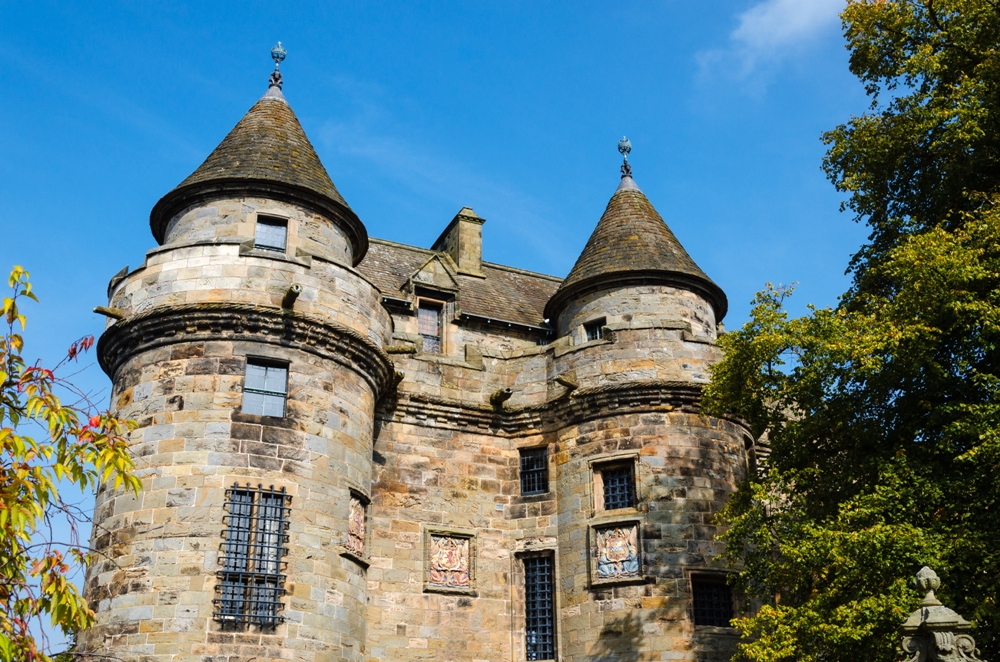 The Steward monarchy of Scotland called Falkland Palace their retreat. It was close enough to Edinburgh, yet far enough away that they had some respite from their ruling lives. It was here that Scotland's royals could go hunting, seeking hawks, and practice their archery skills. In fact, the tennis courts at Falkland, which were designed and built for James V in 1539, are the oldest courts in the world.
The Palace at Falkland was first owned by the Macduff Thanes sometime in the 1100s. A small fort was discovered on the palace grounds that dates back to the 1300s. This fort and much of the lodge were destroyed by British in the mid-1300s; however, the stately tower was eventually rebuilt. Duke Robert Stewart took over Falkland Palace in 1371.
Duke Stewart of Albany was more powerful than any other man in the entire kingdom. He was a true ruler, in every way except for by title. In the early 1400s, it is said that the heir to the throne, his nephew, the Duke of Rothesay, was imprisoned by Stewart. Stories suggest that it was not a friendly imprisonment, as Stewart demanded to have the throne for himself, and allowed Rothesay to perish by starvation, chained to a wall in a cellar.
On the grounds at Falkland, you'll see there are two aspects to visit – a gatehouse with two towers, and of course the royal homes. The gatehouse, which James V had commissioned to be built, now houses his son's bed, as well as a sitting room. The Stuart family crest adorns the ceilings throughout this drawing room. You'll also see many of the rich tapestries, as well as replicas of the furniture of the 1500s and 1600s.
The Stewart King Bedchamber has a painted ceiling, and they also have on display James V's actual bed. Also on the grounds is one of the greatest surviving chapels in all of Scotland.
You'll find that Falkland has more to see than meets the eye. The tangible sense of the history that has flooded the grounds and the walls is almost too much. One note before you arrive, please be aware that no interior photography will be allowed. This is to assist in maintaining the integrity of the medieval art pieces, as well as make sure that people come to see the castle for themselves, as this is simply one that must be seen to be appreciated.