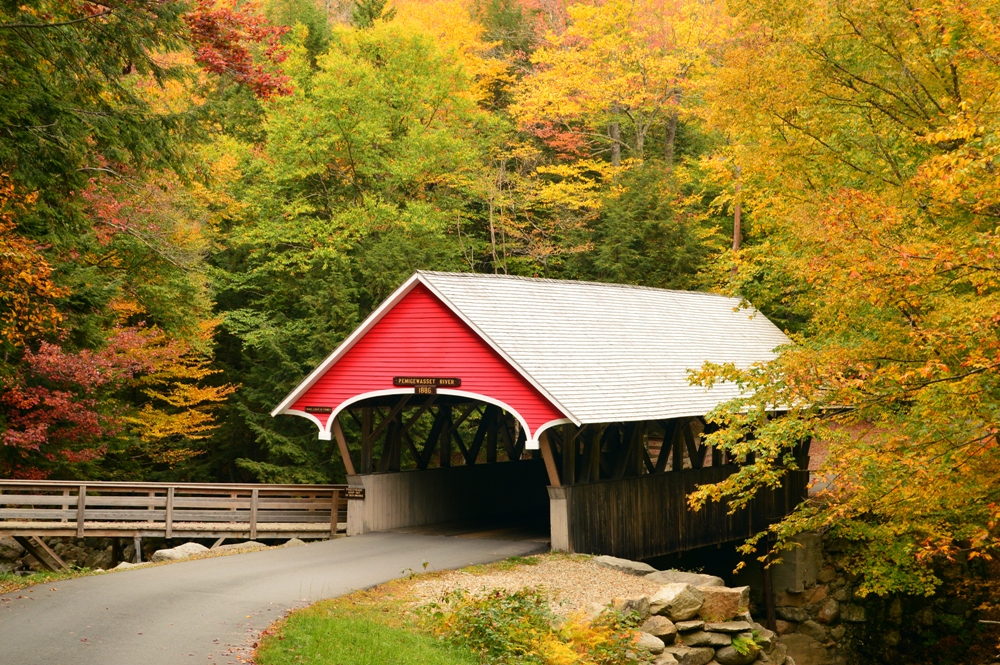 Deep in the woods of White Mountain National Forest lies Franconia Notch State Park. A spectacular park set on both sides of a unique mountain pass extending from Flume Gorge to the south and Echo Lake to the north. The I-93 traverses the peaks of both the Kinsman and Franconia ranges.
Immortalized forever in the writings of Hawthorne and Webster, Franconia Notch was the residence of the Great Stone Face. You can read the books, or stop in at the Visitor Center for more about the Old Man of the Mountain. You can also make a stop at the Visitor Center at Flume Gorge, take an exciting excursion along the aerial railway in Cannon Mountain, or learn about snow skiing at the New England Skiing Museum.
Within the state park, at a stop along the Franconia Trail, is Lafayette Campground. From May 19-30 each year, walk-in sites are available. Then, from May 31 throughout October, sites must be reserved in advance. Every site is heavily wooded and comes with a picnic table, a place to park your vehicle, and an open fire pit. Brochures illustrating the highlights of the park, as well as surrounding things to do, daily weather reports, firewood, ice, charcoal for your grill, and snacks can be purchased at the lodge store beginning at 8 in the morning till 9 at night. There are showers available 24-hours-per-day and, while camping in the winter is not discouraged, there isn't running water available to the campground during the winter months.
Also located within Franconia is Echo Lake RV Park, which has sites for seven campers. Sites are full-service during camping season, but during winter months there's no running water or dumping. Self-contained RVs, however, are welcome during this part of the season. During summer camping season, there are bathrooms down by the beach, but these are locked at 10 pm. One of the popular highlights of camping in the winter at Echo Lake is the proximity of the Cannon Mountain Ski Lodge.
Life here is all about slowing down; about taking the time to notice all that nature's providing around you. Swimming in Echo Lake, trout fishing on Profile Lake, bike riding through Recreation Trail, or hiking the Appalachian – it's up to you. Enjoy your stay when you come to Franconia Notch.