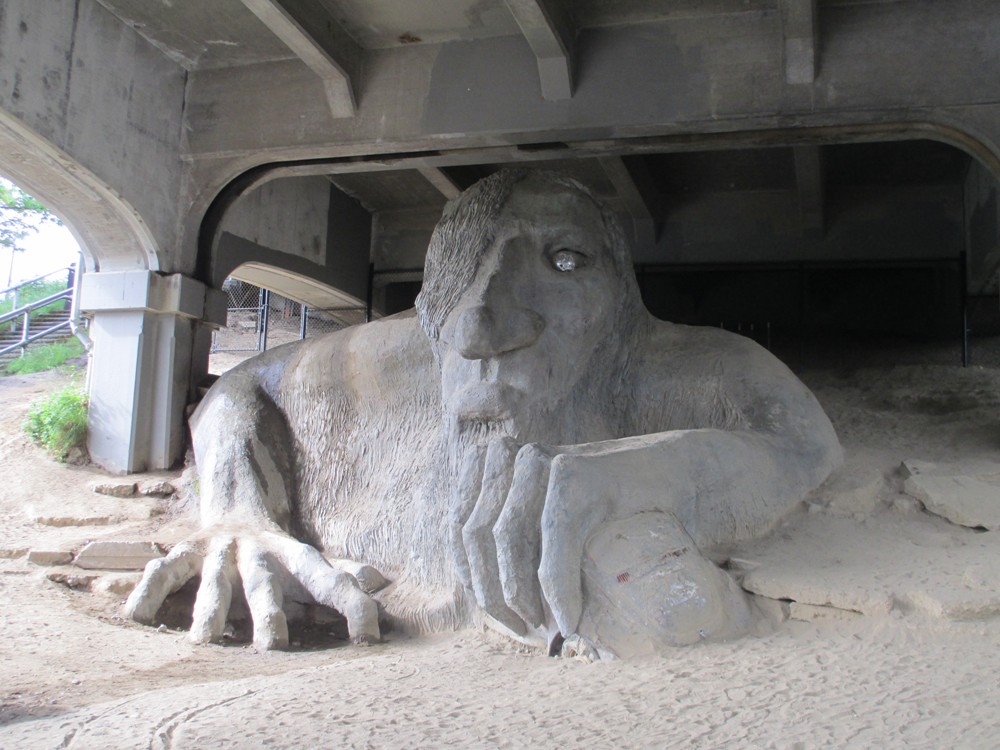 The Fremont Troll – Seattle, Washington  Seattle has its very own version of Shrek.
Kind of.
Known as the Fremont Troll, this handsome hulk has been living under the Aurora Bridge since Halloween in 1990. Construction builder and architectural professor, Steve Badanes (along with two of his students and his girlfriend at the time) sculpted the troll for a community contest that had been sponsored by Fremont's Arts Council. And they won!
The troll stands at nearly 20-feet-tall, glaring to the south with his one shiny eye, which just happens to be the hubcap from an ancient VW Beetle. The rest of this iconic car lies crushed beneath his forearm. The vehicle had at one time contained a precious time capsule with Elvis Presley memorabilia, but after repeated vandalism, including the theft of the car's California license plate, the time capsule was removed. The car and its out-of-state tags were meant as a statement against development of the area by "outsiders." Today, interaction with the Fremont Troll is certainly encouraged, as long as you are respectful of those who live in the area – and the troll himself.
Nowadays, every Halloween, the Fremont community pays tribute to its stately troll with an annual Trolloween party. Visitors and residents come together under the Aurora Bridge and make the trek to other art sites in the area and other Fremont Halloween events.
Now and then, things happen which bring the troll back into the limelight. In the late 90s, a commuter bus driver was shot while driving his bus, causing it to veer off the Aurora Bridge and crash into the top of an apartment complex near the troll. It took the community some time to rebuild what was damaged. Then, in 2013, fifteen sheep skulls were found, still bloody, in the yard of a home across the street.
The Fremont Troll can be found on North 36th Street in Seattle. The Aurora Bridge is also known by some in the area as the George Washington Bridge. There is a Fremont Bridge nearby; however, that is not the home of the Fremont Troll. Admission is free, and hours are open to whenever you feel the need to check him out, as long as you can pay your "toll."