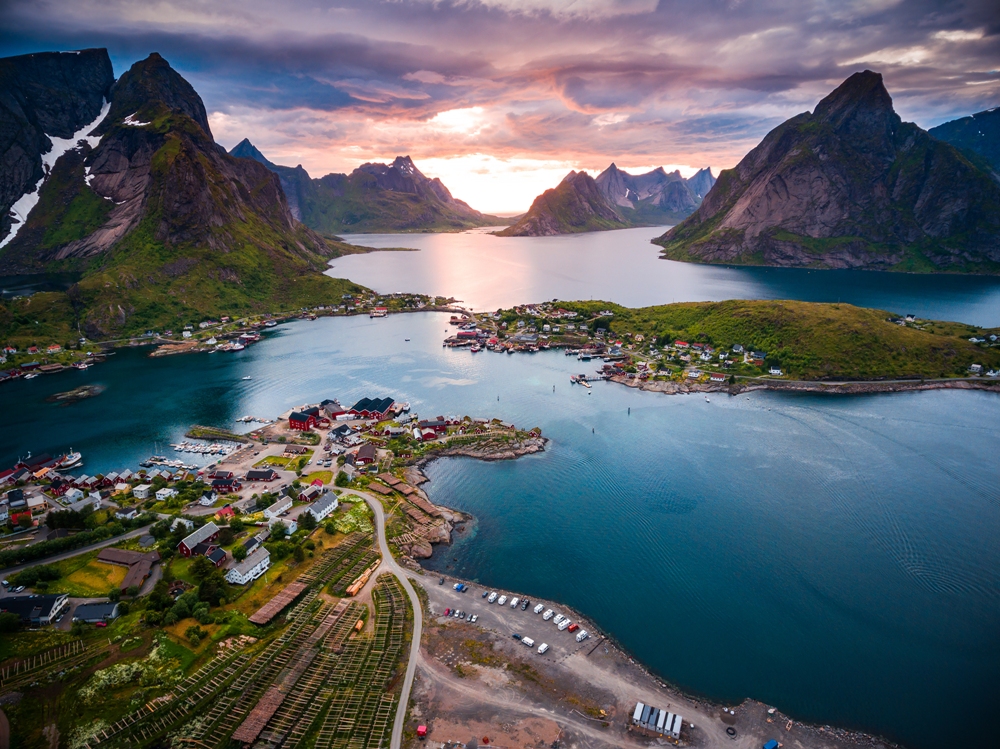 Hinnoya is the largest of the islands outside of the mainland, and covers nearly 1,400 square miles. Part of the country of Norway, the island is broken into four main regions – Vesteralen, Lofoten, Ofoten, and Southern Troms.
A number of fjords dissect Hinnoya, two of which nearly threaten to cut the island in two: Gullesfjorden and Oksfjorden, less than three miles between the heads of the two. This island consists mainly of mountain terrain, especially in the southern portion. Agriculturally, the best area of Hinnoya lies within Harstad and Kvaefjord.
This southern portion includes Moysalen National Park, which is home to the island's tallest mountain, coming in at 4,140 feet tall and sharing its name with that of the park. Near the town of Forfjord, a nature preserve contains a valley, bogs, and a forest with Norway's oldest pines, over 700 years old.
In 2007, a mainland road connection was opened as part of the European Route Highway system. This new road connected Hinnoya to the other Lofoten islands in the southwest. The highway makes for easy access to Moysalen National Park, and a ferry transports visitors to and from the mainland, across Vestfjorden.
Andoya, a municipality, is comprised of Hinnoya and Andoya Island. Hinnoya is the larger of the two and the two are connected via the Andoyabrua, or Andoy Bridge. The bridge was finished in 1975. An airport is located in nearby Andenes.
The waters around Andenes are extremely deep and coincidentally are the one place in Europe where the giant male sperm whales can be viewed. In fact, whale watching is offered as a main attraction to the region via Andenes' Whale Safari.
The continental shelf's edge is closest to land in Andenes than anywhere else in Norway. Bleik Canyon is an extraordinary area of the deep sea, providing food for the sperm whales, such as squid and other marine life. From Hinnoya, Andenes is a short hour's trip for a memorable addition to this vacation.