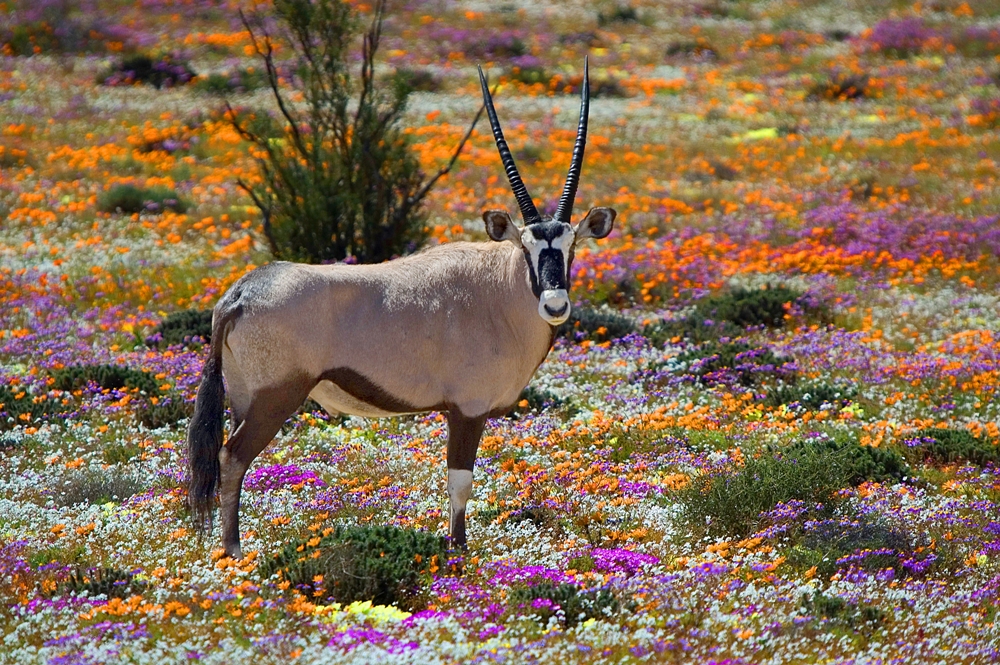 Namaqualand is known for many things but perhaps best known for its wildflowers every spring. Approximately 3,500 species of plants call this area home, close to a thousand of which you won't find anywhere else.
The majority of the year finds Namaqualand a near-desert, but from July through September the rains result in millions of blossoms transforming the area of the Namaqualand National Park into a veritable 8th Wonder of the World. This region has dramatic seasons, and the harshness of its climate means that plant species must adapt – or else.
In the springtime, the park is covered in wild, richly colored daisies, but you can also find quiver trees, rocky granite outcroppings, patches of quartz, and a vast skyline that you must see to believe, earning it the nickname Big Sky Country.
Namaqualand National Park covers a vast area and is only a little over 300 miles from the capital of Cape Town. Nearby is the tiny village of Kamieskroon on route N7 on the way to Namibia.
Within the park there is a circle drive that is excellent for checking out the spring flowers, and there are several pull-off spots to take in the other scenery as well. You'll also find hiking trails, picnic tables, and even a chance to catch a glimpse of the local wildlife including the Oryx and the smallest tortoise in the world, Namaqua's Speckled Padloper.
A new extension of the park unveiled a new hiking trail, Silver Sands Trail, along the beach between the Spoeg River and the Groen. The majority of visitors enjoy the trail while the flowers are in season. It is said there is no trail in the world comparable to it.
Silver Sands Trail is beautiful at any time of the year. Whale sightings and other marine life like the resident seal colony make this excursion one to remember. Namaqua is a wonder to enjoy at any time of year, keeping in mind that the summers in South Africa can get rather hot.