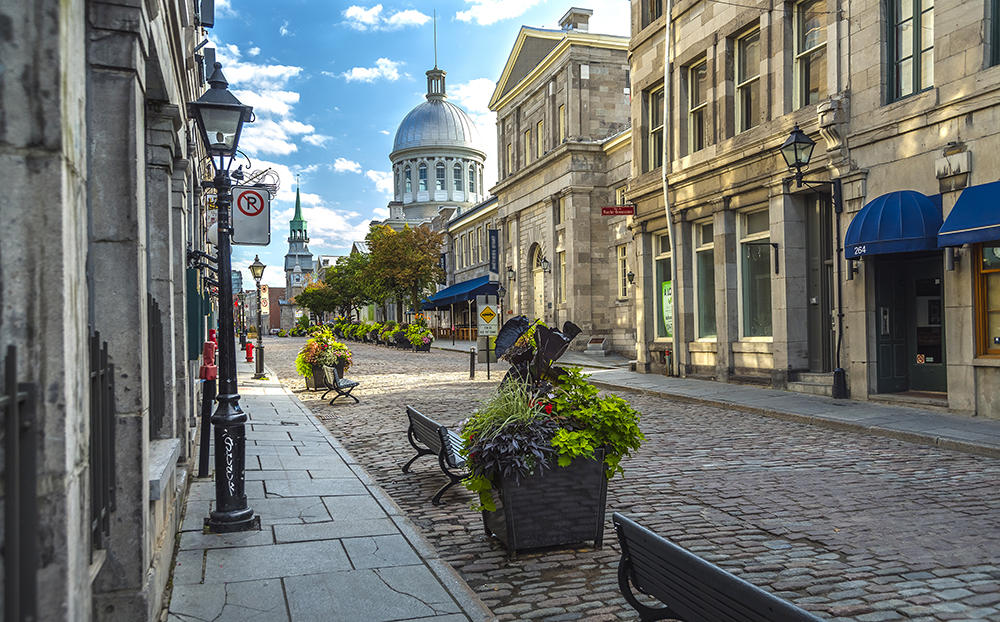 Over the course of the next three years, visitors and residents of Old Montreal will be treated to a unique experience: the building and cobblestone streets of the town are to be lit with a series of projections and accompanying music that tells the history of the city.
This beautiful public art installation is the brainchild of acclaimed creative duo Michel Lemieux, Victor Pilon, and playwright Michel Marc Bouchard who collaborated over the last five years to create a public, visual history. The project is perhaps one of the largest of its kind in the world and includes 80 individual projectors that have been placed on rooftops of buildings throughout Old Montreal. Once the creators obtained permission to utilize rooftops from building owners and had all rights in place, the trio went to work to create this unique, immersive experience.
Each night that city comes to life with music and images that even go so far as to fill the trees of the city with ghostly life. From a tribute to Leonard Cohen's famous song Suzanne, to the apparition of a flowing river that runs through cobblestone streets, the installation shows the range of the city's culture history. With over twenty scenes projected around the city, guests are sure to find something of interest.
The scope of the project included upwards of 800 individuals, including 400 artists and craftspeople. The stories and themes that the trio selected tied most closely to the themes and values of the city. It was important to them that the stories spoke to the heart of the city. Installations include everything from Jackie Robinson to a tableaux that tells the story of a Jewish Children's Transport train that carried thousands of orphans who survived Nazi concentration camps that were adopted by families in Montreal. Each of the stories strike right into the heart of history and the viewers.
Those who are viewing the exhibit can enhance their experience by downloading the free mobile app Montréal en Histories, which includes a soundtrack and historical context for each of the pieces. As an added bonus, the app is available in English, French, Spanish, and Mandarin. The app also includes suggestions for a number of additional places to explore.