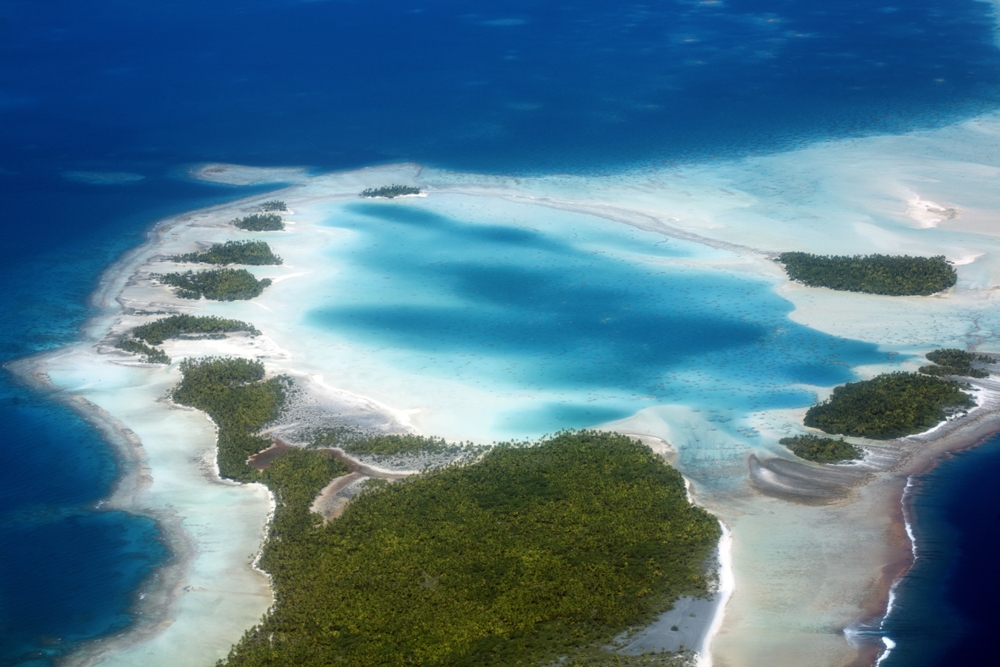 Whether you want to simply be somewhere more secluded than the average tourist destination, you enjoy diving, or simply are eager to visit someplace new, Rangiroa in the Tahitian Islands is one destination you don't want to miss.
If you're looking for a spot with mountain views or high elevation, this isn't the place. However, what you'll find here may be even better. In fact, this Tahitian island is unlike all of the others This coral atoll's name in the native language literally translates to "immense sky," thanks to the ability to see the horizon from literally all sides.
In addition to these endless views, if you're traveling here for the snorkeling, you're in for a treat. Some of the most impressive diving sites in the world are found here. On the north side of this island are Avatoru and Tiputa Pass which both provide ideal currents for diving and snorkeling. The real Blue Lagoon is located here, and is only 16 feet at its deepest. There is an incessant flow of fish in and out of the area, making deep sea fishing popular in the region.
On the other hand, if water activities are not what you're looking for, but secluded exploration is at the top of your list, The Pink Sands is a practically deserted beach covered in sand the color of which gives this beach its name. Reef Island on the southern portion of the atoll illustrates the impressive nature of erosion with amazing formations of coral. In fact, villages on the mainland showcase churches built from the coral found here.
Nearby the Tiputa Pass you'll find lovely accommodations at either the Hotel Maitai or the Hotel Kia Ora. At the Kia Ora, enjoy your stay in bungalows that hang over the water. Also on the atoll is Le Sauvage, a private island with only five cottages and no electricity. Enjoy your evenings by gas lantern for a true island experience. For even more seclusion, the nearby atoll of Motu Teta offers true privacy – the atoll is so small that the private villa is the only accommodation offered. The villa comes with your own chef and a staff to accommodate your every need.