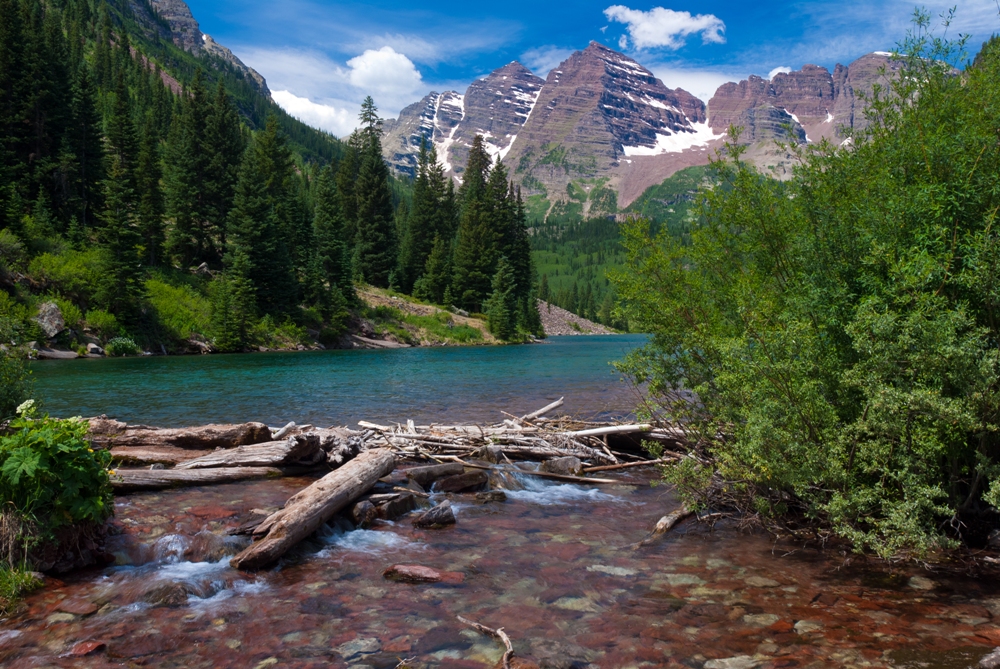 They say that beauty is in the eye of the beholder. That being said, anyone would be hard pressed not to see it in these stunning destinations. From the blossoming wildflowers of the mountains of Colorado to a beautiful Grecian Island, these vacation destinations will take your breath away.
Maroon Bells: Colorado
Located just outside or Aspen, Colorado, in the picturesque Elk Mountains are two 14,000-foot peaks known as the Elk Mountains. Situated in a glacial valley, the peaks rest aside Marron Lake, whose waters are so clear that they perfectly reflect the peaks, creating an incredible natural photo opportunity for those visiting. The hills are often filled with blossoming wild flowers and are particularly beautiful in the fall when the trees are ablaze with autumn's golden, orange, and red hues. The spot is full of hiking trails and endless fishing opportunities, making it an ideal location to unplug and connect with nature.
Blue Ridge Mountains: Various locations in the United States
Situated in the eastern United States, the beautiful Blue Ridge Mountains reach from Georgia northward to Pennsylvania. The chain got its name from the isoprene gas that is released from the trees which cause the mountains to have a blueish hue when viewed from a distance. Travelers can hop on the 469-mile-long Blue Ridge Parkway to experience one of the most beautiful scenic drives in the United States. Running through 29 Virginia and North Carolina counties, the Blue Ridge Parkway, which is considered to be America's longest linear park, is full of interesting restaurants, gift shops, historical landmarks, and opportunities to explore.
Oia, Santorini: Greece
The first thing that any visitor to the Island of Oia will notice is its breathtaking beauty. From the small white houses that line the hillsides to the brilliant cobalt blue roofs, bright fuchsia buildings and earthy red tones that dot the landscape, the village offers a visually pleasing spot to relax and renew your soul. It is easy to understand why it is a favored destination for artists and writers who come to the village to create and be inspired. Surrounded by the bays of Ammoundi and Armeni, Oia is one of the most photographed locations in Greece.