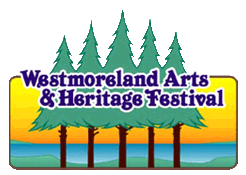 photocredit: http://www.artsandheritage.com/
Welcome to the Westmoreland Arts and Heritage Festival! Westmoreland Arts Heritage Festival  gathers for their 42nd year of celebration from June 30th through July 3rd. Come and take part in the region's proud annual tradition. Festival organizers urge you to bring your family, friends, and anyone you know with whom you would enjoy spending the day. Take part it dancing to live music, sampling great ethnic foods, and shopping your time away at the fabulous Artist Market.
Each year Twin Lakes Park serves as the host location for the Westmoreland Arts & Heritage Festival.  As part of the Westmoreland County parks system, there is no more appropriate place to enjoy this extraordinary festival. Both the upper and lower lake are encircled by a beautiful paved walkway that provides a pleasant walking and exercise path for festival attendees.
Highlights of this year's Festival include:
The Westmoreland Art Nationals Juried Fine Art and Photography Exhibition. This unique exhibition features local, regional, and national artists working in all genres. The activity is comprised of two exhibitions, one taking place at the Westmoreland County Community College and the second following at Twin Lakes Park during the Westmoreland Arts & Heritage Festival.
The Artist Market. Known as the largest portion of the Festival, the Artist Market is host to over 200 professional craftspeople and artisans from all over the country.
Entertainment & Presentations. As part of the Festival, guests can expect to experience non-stop contemporary, traditional, classical, and folk music on four stages. In addition, they can enjoy Poetry and Short Story readings, Performance Artists, Theater, Dance, Polka, Concert Bands, Oldies, Bluegrass, Country and Rock & Roll.
Children's Activities. The Festival coordinators go out of their way to put together dynamic programming designed for small children, youth, and the young at heart.
Food Vendors. Food vendors offer a wide variety of excellent local foods that represent a large range of ethnic backgrounds including Italian, Polish, Greek, Vietnamese, and Lebanese.
Westmoreland Poetry and Short Story Contest. Entrants from around the country enter our juried poetry and short story contest.
To learn more about the full festival itinerary go to artsandheritage.com.